Engineering and Design Capabilities

Short lead times are imperative when delivering mission-critical product solutions for the aerospace, defense, and medical industries.
With on-site multidiscipline engineering capabilities, Electromech Technologies rapidly responds to customer needs by providing integrated product solutions involving complex mechanical, electronic, and electromagnetic systems.
Electromech Technologies custom designs, manufactures and qualifies a robust catalog of products, including motors, actuators, blowers, valves, electronics, and position feedback devices and windings.
Design and Drafting Capabilities
Our design engineers boast decades of experience and expertise in motor, electronics, and mechanical design for customers in aerospace, defense, and medical applications. We also provide drafting capabilities, including computer-aided design, Autodesk inventor solid modeling, and interfacing with all major CAD platforms.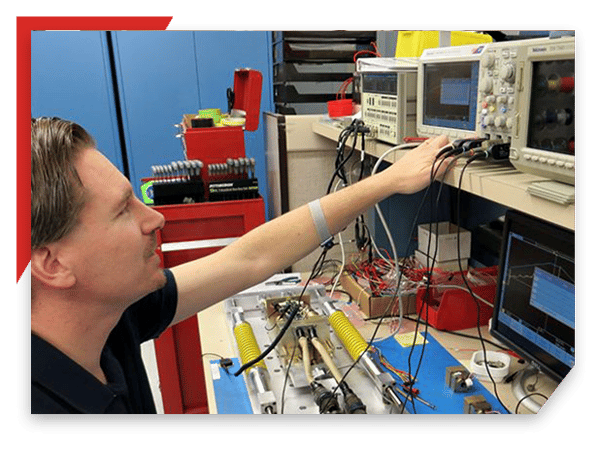 Motor Design
Brushed DC, Brushless DC, AC Synchronous, AC Induction, Variable Reluctance
Thermal optimization and electromagnetic circuit design
Infolytica:

2D/3D Electromagnetic (MagNet)
Coupled Electromagnetic and Thermal (MagNet and ThermNet)
MotorSolve and RM/Expert AC and DC Motor software

Autodesk Multiphysics:

Thermal – Steady-State and Transient
Mechanical Design
Electromechanical Actuation and Gear train design
Fan and Blower design
Specialized material selection
Autodesk Multiphysics:

Structural stress analysis – Linear, Non-Linear, Transient
Modal and Forced Vibration analysis
Relex/Windchill - reliability analysis.  MTBF, FMEA, and FTA capabilities

Partner Capability:

CFD and Acoustic Modelling
Electronics Design
EMI Filtering and Shielding Design
Closed Loop motor speed and torque control
CPLD, Microprocessor, and Discrete component controller design
RTCA DO-178/DO-254 design capabilities
Spice-circuit simulations
Orcad-schematic capture/board layout
Embedded Micro controls